01/29/2023
UMMC finished the first round of the Regular championship with one hundred percent result.
«Foxes» beat «Dynamo» Kursk tonight in a road game and completed the first round of the Regular championship of Premier League with one hundred percent result and 22 consecutive wins.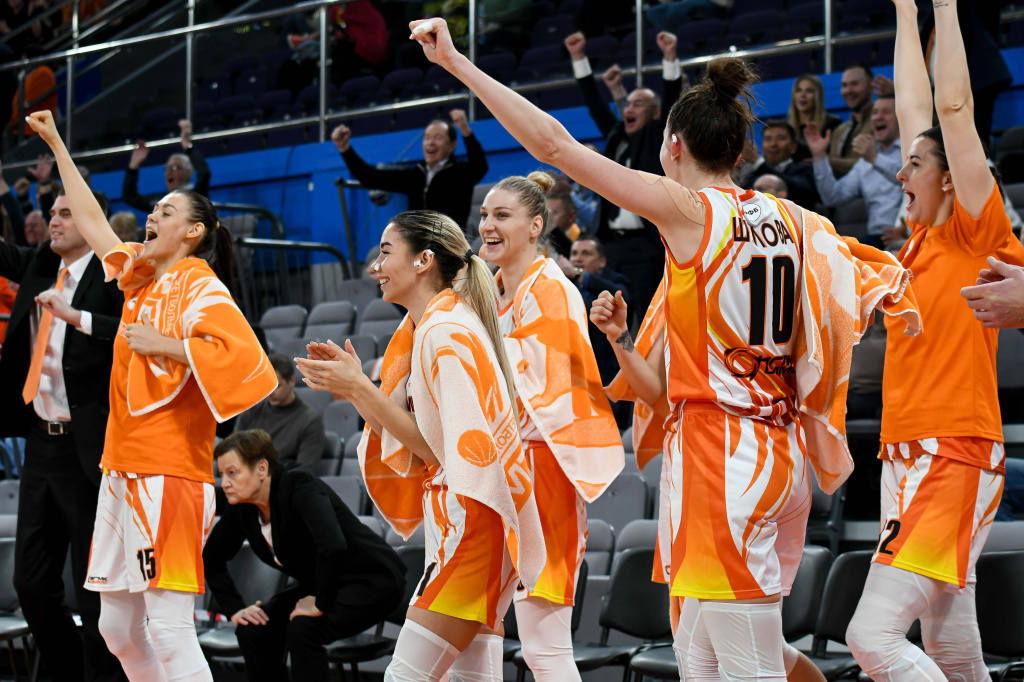 «Dynamo» Kursk - UMMC Ekaterinburg 57:73
Quarters' results: 17-20, 16-16, 6-25, 18-12
The outcome of the meeting in Kursk could not influence the position of UMMC in the Premier League standings. Being on top, our team beforehand secured a spot in the II round of the tournament. Nevertheless, the players of Dmitrii Donskov did not plan to lose in Kursk or did not count upon a runaway victory.
During the first half of the match neither of the teams managed to gain any advantage in score, and by the halftime opponents' score varied like «swings». The score was even four times, but the visiting team went to the locker room as a leader with three points on their account – 36:33.
The third quarter was determinant in this fight. After switching sides UMMC made a confident leap, at the beginning it was 9:2, and then the advantage of our team reached double digits – 45:35. In spite of some time-outs the «white-blue» couldn't get back into the game. The «Foxes» won this quarter with the score – 25:6, achieving an advantage of 22 points – 61:39. After that the last ten minutes turned into a mere formality. UMMC entirely took the game under their control and achieved the 22nd win in a row – 73:57, completing the first round of the Regular championship with one hundred percent result.
Alexandria Bentley, UMMC point guard, became the highest-scoring player of the match with 21 points, 7 assists and 6 rebounds. Maryia Papova logged a double-double of 11 points and 10 rebounds. Tina Krajisnik added to her account 11 points and 5 rebounds, Maria Vadeeva harvested 8 points and 9 rebounds, Viktoriia Zavialova finished the game with - 8 points and 3 assists.
In the opposing team Elizaveta Shabanova logged a double-double of 12 points and 13 rebounds. Two players showed double-digit results - Olga Frolkina with 13 points and Ezinne Kalu with 10 points.
Our team will start the second round of the Regular championship on the road on February 2 in Vidnoje, meeting with «Sparta&K».