01/24/2023
Heading the standings, UMMC beforehand secured a spot in the II round of the championship
UMMC confidently leads PARI Championship of Russia – Premier League. Tonight "the Foxes" beat "Nika" from Syktyvkar on the main court of DIVS Arena. Being the only team with one hundred per cent result, our team heads the standings of the Premier League after 21 games of the I round of the Regular championship and it beforehand secured a spot in the II round of the tournament.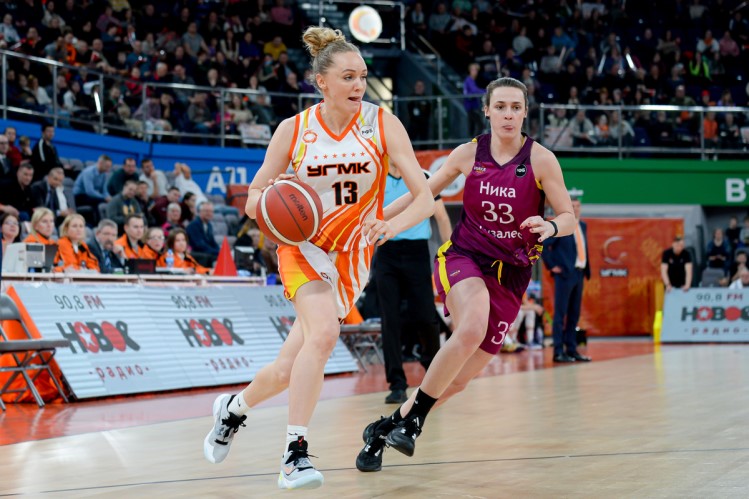 UMMC Ekaterinburg – NIKA Syktyvkar 80:50
Quarters' results: 20-21, 12-11, 22-7, 26-11
During the current season, the teams played twice: in the first round of the Regular championship and in the semi-final of Russian Cup. Both games followed a similar pattern. There was an equal tough struggle in the first half, and then UMMC made a confident leap. The scenario of the third game, that we saw tonight, was absolutely the same. However, this time Maria Vadeeva and Maryia Papova from the host team were not on the team roster, but they will get back into the game shortly.
Tonight on the court of DIVS the guests from Syktyvkar managed to force our team into a competitive fight only in the first half of the meeting. It would seem to be a tight match, but in the middle of the game UMMC entirely took the situation on the court under their control and kept "the threads of the game" in their hands until the buzzer. Tight defense and fast offense that the players of Dmitrii Donskov regained after switching sides became the key for success and it helped them to win the second half of the meeting with the score – 48:18 and to end the game – 80:50.
Tina Krajisnik, UMMC center:
- We started the first half a bit confused, there was some misunderstanding in defense, but in the second half we managed to correct all our mistakes that's why we got such a result. I'm happy that we won tonight's game and stayed undefeated.
Alexandria Bentley, UMMC point guard, who played the first half with no points on her account, managed to come to the top and became the highest-scoring player of the match with 16 points. Two players of our team logged a double-double: Anastasia Olairi Kosu (14 points, 12 rebounds) and Tina Krajisnik (10 points, 12 rebounds).
Albina Razheva was just a step short of a double-double – 16 points and 7 rebounds. Anastasiia Shilova added to the team's score 10 points.
In the opposing team Mariia Cherepanova and Saicha Grant-Allen scored 11 points each.
UMMC will play the last game of the first round of the Regular championship on January 29 on the road, meeting with Dynamo Kursk.