01/16/2023
UMMC easily outplayed Dynamo Novosibirsk
UMMC confidently prevailed over Dynamo Novosibirsk at the DIVS arena in the game of the 19th tour of PARI Championship of Russia – Premier-League.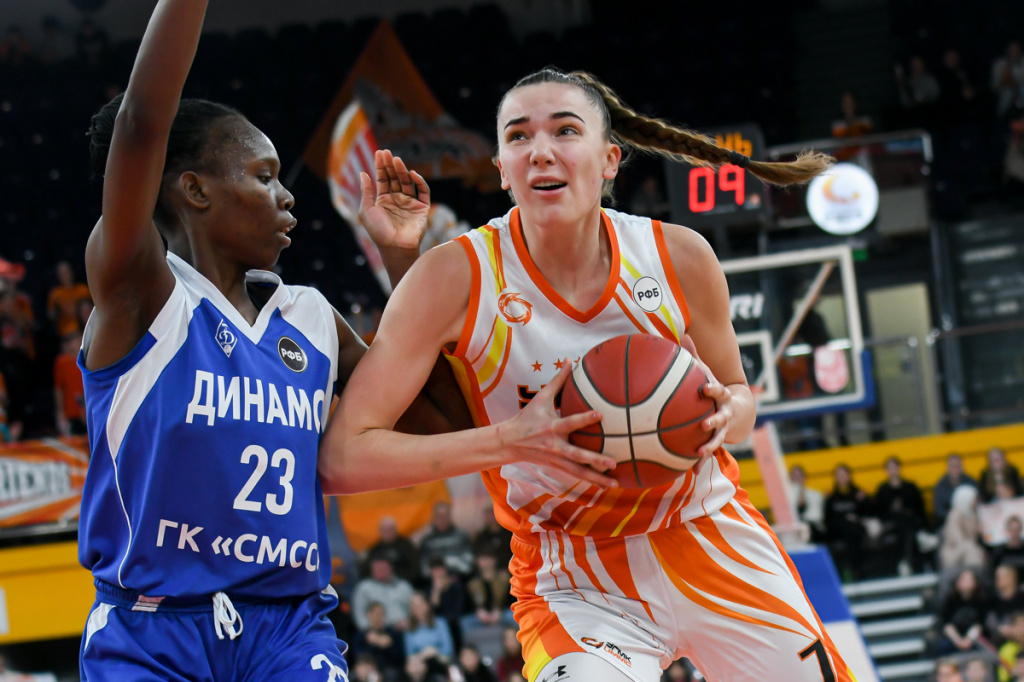 UMMC Ekaterinburg – Dynamo Novosibirsk region 71:41
Quarters' results: 20-10, 17-12, 20-8, 14-11
After just three minutes UMMC confidently took control over the game. Maria Vadeeva and Anastasia Olairi Kosu put the attempt of "swings" to a halt – 10:6, while Daria Repnikova draw a line to the first quarter shooting from behind the arc – 20:10.
The hosts started the second quarter with another breakthrough – 9:0. Again Maria Vadeeva propelled forward the attacks of the "orange" players. UMMC not only played well in positional team offense, but also demonstrated good counter-attacks from defense. The game was virtually made by the halftime – 37:22.
During the rest of the match UMMC was entirely dominating on both sides of the court. The players of Dmitrii Donskov demonstrated good team play, completely prevailing over their rivals on the backboards. UMMC took 51 rebounds, whereas Dynamo took 31. While playing team offense, the Foxes made 22 assists, and Dynamo made only 9. UMMC advantage reached the mark of 31 points. The buzzer sealed the 19th win of UMMC in the regular championship – 71:41.
UMMC trio of Vadeeva-Kosu-Repnikova during the game earned as much points as the entire guest team did. Maria Vadeeva added to her account 14 points, 4 rebounds, 4 assists and 3 steals. Anastasia Olairi Kosu harvested 14 points, 5 rebounds and 3 assists, whereas Daria Repnikova finished the game with 13 points.
Albina Razheva was just one-step from hitting a double-double with 8 points and 12 rebounds.
In the cast of the opponents, the best result of 17 points was demonstrated by Dynamo play-maker Ashley Beverly Kelley.
Daria Repnikova, UMMC guard:
- It was a good game. It probably took us slightly longer to gain full pace under strain, and 3-point shots let us down today, but everything was well with our motivation. We are moving forward gradually and gaining the form before more important games.
UMMC will play the next match on the road on January 20 in Vidnoje, meeting with Sparta&K.