01/08/2023
UMMC at home confidently took down Neftyanik Omsk
On the main court of DIVS arena UMMC beat Neftyanik Omsk in the game of the 17th tour of PARI Russian Championship –Premier League.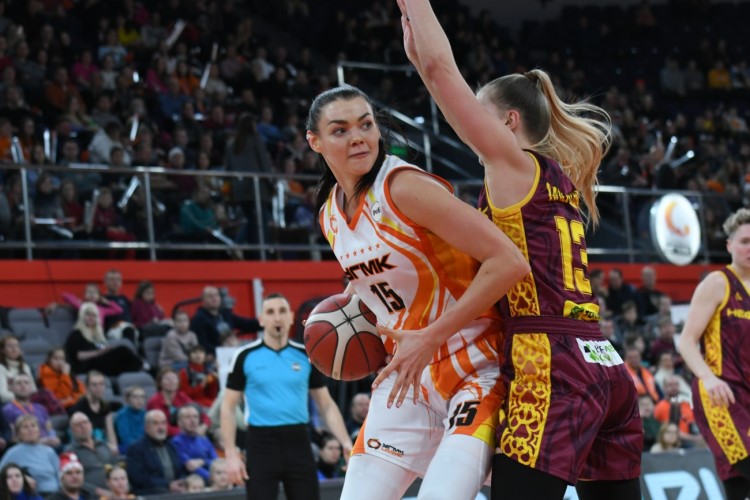 UMMC Ekaterinburg – Neftyanik Omsk region 91:65
Quarters' results: 23-17, 23-8, 24-15, 21-25
Despite of even start of the game, UMMC still clearly dominated in the first half of the meeting. The team of Dmitrii Donskov demonstrated good defense, active rotation and effective offense, resulting in almost double advantage before halftime – 46:25.
Right after shifting sides, the Foxes added speed and gained maximum advantage of 33 points – 68:35. In fact, the game was done. Leaders of the orange players left the court. During the last quarter, while the Foxes where leading the game, the UMMC coaches distributed playing time between all players announced for the game. Each player spent 20 minutes on the court and gained some scores, whereas UMMC celebrated the 17th victory in the Premier League – 91:65.
In the cast of our team, both Maria Vadeeva and Anastasiia Shilova added 14 points each to the team's score. Tina Krajisnik made a double-double of 11 points and 12 rebounds. Two-digit scores were gained by Elena Beglova – 12 points, and Albina Razheva – 11 points. Alexandra Stolyar made a good game, adding to her account 9 assists, 8 points, 6 rebounds and 5 assists.
The rivals were led by Daria Levchenko with 16 points and Ekaterina Krylova with 10 points.
Alexandra Stolyar, the UMMC guard:
- We started the game not very well, and needed a long time to gain the speed, but in the second quarter we directed the game to the due course. We won, and now we are leaving for a day-off in a good mood.
UMMC Head Coach Dmitrii Donskov:
- We had to motivate our players to rough work and good attitude towards the game. And somewhere in the second quarter we succeeded with those tasks. Although we can't consider 24 turnovers with the team from the bottom standings as something good, the main task was solved and we won. Probably there were some issues in terms of quality, but taking into account a week of New Year holidays and emotions expended in the last game with bashing score, we still achieved a good result.
UMMC still stays flawless on the leading position in the PARI Russian Champioship – Premier League. Our team will play the next home game against Dynamo Moscow on January 12 at the main court of DIVS Arena in Ekaterinburg. The game starts at 19:00.