01/05/2023
UMMC defeated MBA with a double advantage
UMMC confidently beat MBA Moscow on the main court of DIVS Arena in the PARI Russian Championship- Premier League game.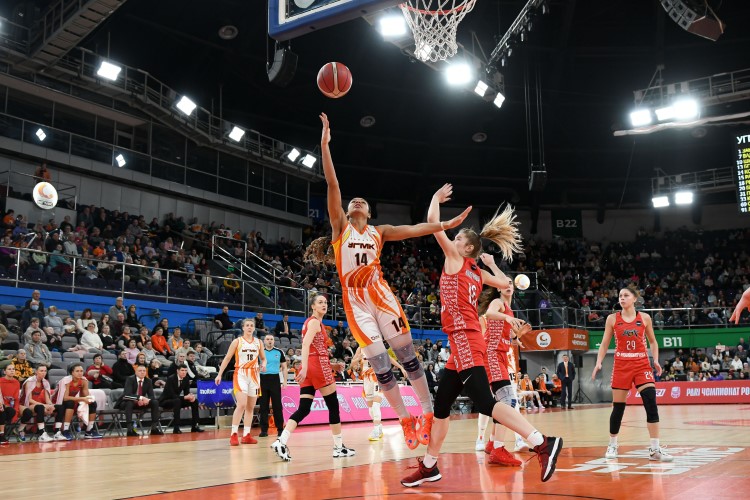 UMMC Ekaterinburg – MBA Moscow 84:42
Quarters' results: 22-6, 24-4, 18-20, 20-12
Right from the first minutes of the game and up to the end of the meeting UMMC was the only team reigning on the court. The Foxes perfectly carried out the first two periods with an impressive result – 46:10. The figures came as a surprise after recent tough battle with the same opponents in the finals of the Russian Cup only ten days ago. However, this time there was no fight, as MBA proved to be almost helpless on the court of DIVS Arena in Ekaterinburg. During the first half of the game, the team of Alexander Diratsuyan implemented from the field only four attempts out of thirty. At the same time their chief weapon – three-point shots, - did not work out at all (just one accurate shot out of seventeen).
Only after shifting sides, the guests managed to adjust to the game, so that their shots hit the goal more often, and the third quarter became the most effective for both teams. The red-and-white players even regained a couple of points out of their massive minus, although they could not affect the game outcome. In the final quarter, UMMC increased the gap to 44 points, ending the match with the closest rival in the Premier League standings with the double advantage - 84:42.
Anastasiia Shilova, UMMC forward, became the highest-scoring player of the match with 16 points. Maria Vadeeva logged on a double-double of 10 points and 10 rebounds. Tina Krajisnik harvested 12 points and 7 rebounds, Kseniia Levchenko – 8 points, Viktoriia Zavialova – 7 points and 4 steals.
In the cast of the opponents, Elena Kirillova was the best with 11 points.
At the post-game press conference, Kseniia Levchenko, UMMC playmaker, pointed out that during the game the team in fact implemented the dream of their Coach:
- It was a very good game after the break. We gained a confident win and almost implemented the dream of our Coach. We got ourselves up for the game, involved into it completely and won with a good score.
UMMC is having the next home game against Neftyanik Omsk on January 8 at the main court of DIVS Arena in Ekaterinburg. The game starts at 17:00.