News
04/26/2022
The Foxes lost the third game of the final series
Defending Russian champion UMMC lost the third game of the Paribet Russian Championship - Premier League's final series against Dynamo Kursk. The game took place in Kursk. Score of the final best-of-five series is 1:2.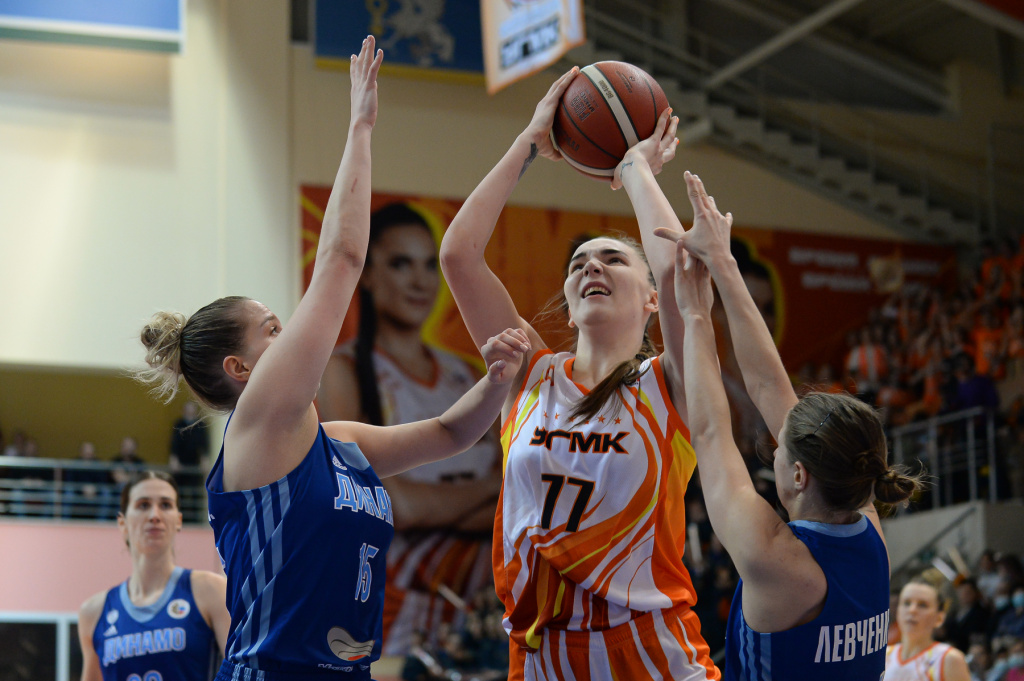 Dynamo Kursk - UMMC Ekaterinburg 72:58
Quarter scores: 20-16, 20-16, 18-13, 14-13
UMMC had a good start in the third meet of the final series. They stunned the host team out of hand and by the sixth minute of the first quarter their frictionless game combined with aggressive defense helped them to increase the breakaway to double digits with the score 16:6. But our team failed to build on the progress: in the time left they didn't gain any more points, and the quarter ended with the score 16:20. The second quarter came to an end with the same result, and the teams met the half-time break with the score 32:40.
Upon the changeover situation on the court didn't changed. UMMC tried to close in on Dynamo and succeeded in improving field goal percentage but not in cutting turnovers' number. The latter index increased by the end of the game to 20 that obviously didn't work for our team's progress. In the last quarter the Dmitry Donskov's squad managed to cut the lead to 7 points with the score 55:62, but couldn't do more. The Kursk team kept control over the game, and the final buzzer logged the second Dynamo's win in the final series with the score 72:58.
Maria Vadeeva from our team came short of one rebound to get double-double: she scored 24 points and collected 9 rebounds. Maryia Papova scored 12 points, Viktoriia Zavialova scored 6 points, made 8 assists and 4 rebounds, Anastasiia Shilova scored 7 points and made 4 assists.
Eva Lisec from the host team logged a double-double of 15 points and 12 rebounds.
The fourth game of the final best-of-five series is to take place in Kursk on April 28th. If the fifth game is necessary to find out the best team it will take place on May 2nd in the UMMC Sports Palace.