04/12/2022
UMMC waits for the final opponent
Defending Russian champion UMMC beat Syktyvkar's Nika in the second leg of the Paribet Russian Championship - Premier League's semifinal series and advanced to final. The semifinal series score is 2:0.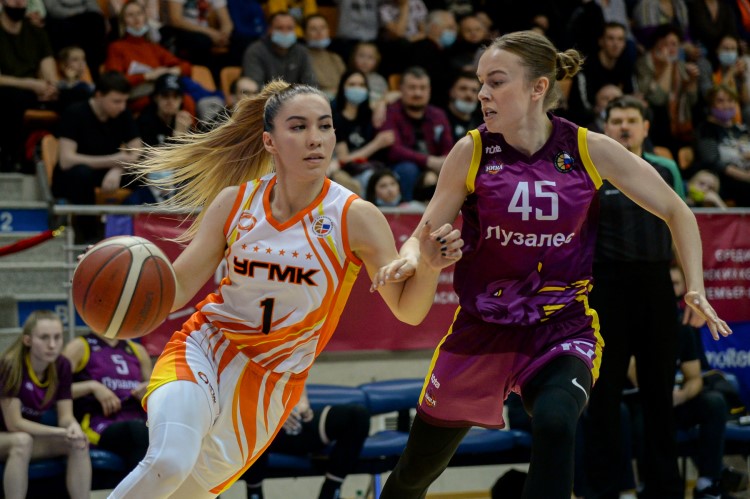 NIKA Syktyvkar – UMMC Ekaterinburg 75:79
Quarter scores: 25-17, 15-16, 18-23, 17-23
The return game in Syktyvkar turned out to be anything but simple for the both teams. Generally the game resembled the first match in inversed manner with only one difference: the guest team's pursuit was finally crowned with success.
During the first three quarters the Foxes acted as chasers, but closer to the last short break they were just one shot behind the opponent.
Along the final quarter scores' parity stroke four times, but the defending champions demonstrated fierce will to win in this personality clash. UMMC turned the game around and didn't lose grip on it until 79:75 win.
Maria Vadeeva of UMMC logged a double-double of 29 points and 12 rebounds. Double-digit totals were accumulated as well by Victoria Zavyalova (13 points, 5 assists) and Albina Razheva (12 points).
Marina Goldyreva of Nika team scored 31 points.
Our team ended the semifinal playoff series in two games, winning the series with a clean sheet of 2:0 and advancing to the final. The first semifinal game took place on April 8th in the UMMC Sport Palace and was won by UMMC with 77:70 score.
In the Russian Championship final UMMC will play with the best of the other semifinal pair of Dynamo Kursk and MBA Moscow. The first two games of the best of five series will be played on the UMMC Sport Palace's main court on April 20th and April 22nd. The third game will take place on April 26th on competitor's premises. The teams will play there on April 28th as well if necessary. If to find out the best team the fifth game is must, it will take place in the UMMC Sport Palace on May 2nd.