04/04/2022
UMMC to play with Nika in the Semi-Final
The current champion of Russia and Euroleague UMMC won in the Quarter-Finals of Paribet Russian Championship - Premier League over "Sparta & K" from Moscow Region with 2:1 in the series and made it to the finals.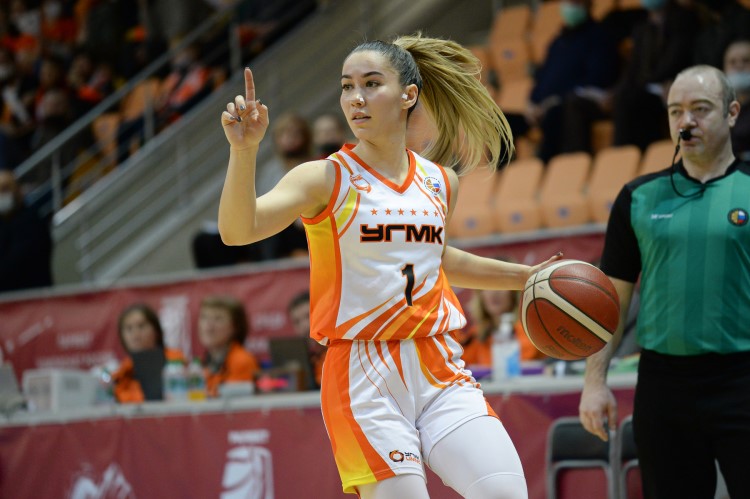 Quarter-Final games' series results:
March 29th
"Sparta & K" Vidnoje – UMMC Ekaternburg 82:80 OT
Quarter scores: 14-20, 21-26, 18-4, 18-21, 11-9.
April 2nd
UMMC Ekaternburg - "Sparta & K" Vidnoje 75:54
Quarter scores: 27-14, 14-20, 12-12, 22-8.
April 3rd
UMMC Ekaternburg - "Sparta & K" Vidnoje 79:64
Quarter scores: 16-11, 20-16, 24-18, 19-19.
Let's remind that UMMC took first place in the regular season of the Russian Championship, securing the home advantage for all play-off games of the Championship.
In the Semi-Final UMMC will play against "Nika" from Syktyvkar. The teams will play best-of-three series in the 1-1-1 format.
The first game of the series the team of Dmitriy Donskov will play on the home court of the UMMC Sport Palace on April 8. The second game will be played on April 12 on the opponent's premises. If to find out the best team the third game is necessary, it will take place in the UMMC Sport Palace on April 16. The winner of the Semi-Final series will proceed to the Russian Championship finals.
Denis Sevastyanov, UMMC team coach:
- Our contender sprang surprises on us in every game of the Quarter-Final series. The defeat we suffered in Vidnoye made us thoroughly reconsider our game and work-out sessions. We undertook an extensive analysis of our game. I think we managed to correct our mistakes. We tried to use all of our strong points, and that helped us to win.
"Nika" is a strong team that has enough perfect players and a good coaching staff. Considering the Quarter-Finals, I suppose the Semi-Final series is going to be interesting