03/30/2022
Shot down in the overtime
The acting Russian champion UMMC competing in Game 1 of the domestic Quarter-Final play-off series was defeated by Sparta&K. The game was played in Vidnoje and the hosts dug out their win in the overtime.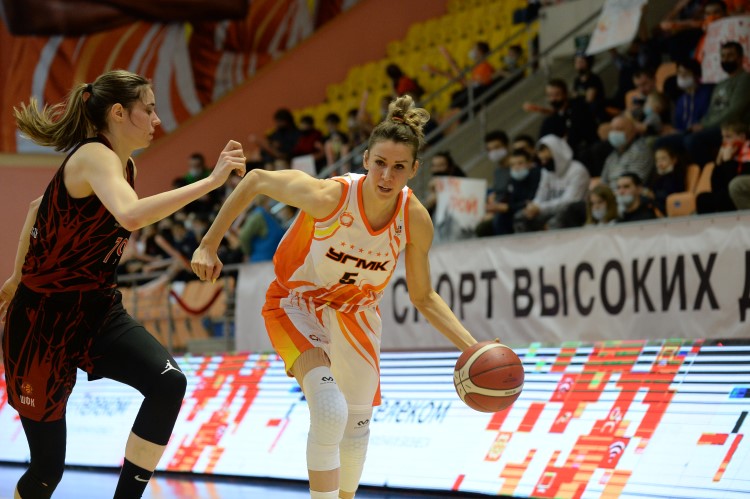 Sparta&K Vidnoje – UMMC Ekaterinburg 82:80 Overtime
Quarters' result: 14-20, 21-26, 18-4, 18-21, 11-9
UMMC showed a good start, was focused on the game and demonstrated steady-growing successful goal percentage. In the beginning of the second quarter Viktoriia Zavialova and Evgeniia Beliakova dropped triples and the guests accumulated a double-digit lead – 26:14. The champions kept good pace and kept on taking points all the way until the interval break – 46:35, while few players harvested double-digits like Maria Vadeeva (15 points) and Maria Popova (10 points).
However, after the sides were changed Dmitrii Donskov's players dropped the ball down the opponents' hoop only a couple of times with Anastasiia Shilova scoring points – 18:4.
In the fourth quarter, our team tried hard and in the end of the match Albina Razheva made a decisive long-range shot to return UMMC on top – 71:68. However, the time was not over yet. Daria Repnikova missed her second penalty shot, but Polina Fedotova caught the ball and evened the chances – 71:71. Viktoriia Zavialova replied quickly from the center of the court, but the buzzer saw the ball bouncing off the hoop.
The overtime was hot with great triple by Viktoriia Zavialova and four point in a row from Maria Vadeeva – 78:73. The hosts fired back with three points from Repnikova and fast break by Nuritdinova – 78:78. With 26 seconds to play in the overtime, the opponents once again tied the game – 80:80. However within 2,7 seconds until the end Maria Vadeeva was punished with the non-sports foul and Daria Repnikova used this opportunity to take her team to their first win in the Quarter-Final play-off series – 82:80.
Maria Vadeeva posted a strong show with a double-double of 25 points and 11 rebounds. Maria Popova missed one rebound to collect full-sized double – 10 points and 9 rebounds. Viktoriia Zavialova ended with 14 points, 6 assists and 5 rebounds, Anastasiia Shilova added 11 points and 5 assists, while Albina Razheva harvested 10 points and 4 rebounds.
The opponents were propelled forward by Polina Fedotova who finished with double-double of 18 points and 13 rebounds. Daria Ignatova also picked up a double-double of 15 points and 10 rebounds, followed by Sevara Nuritdinova – 17 points and Daria Repnikova – 15 points.
In the Quarter-Final play-off round teams play the best of three games series according to 1+2 scheme. Game 2 will be held on April 2 at UMMC arena. In case if needed Game 3 will take place on April 3 at the same venue. The match starts at 13:00.