03/15/2020
Look forward to meet Spartak in the Quarter-Final
In the final stage of the domestic regular championship second round an acting Russian and EuroLeague Champion UMMC competing at home at DIVS arena rode past Enisey from Krasnoyarsk.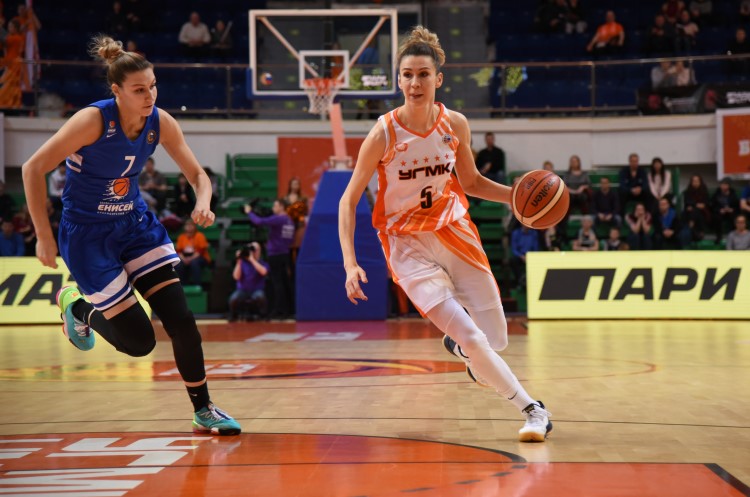 UMMC Ekaterinburg – Enisey Krasnoyarsk krai

102:68
Quarters' results: 24-18, 31-15, 25-11, 22-24
The guests managed to take a lead in the beginning of the game. However, it did not stop an acting Champion and by the time of the interval break the home side collected a double-digit lead and eliminate from the agenda any questions about the possible game outcome – 55:33
The opponents exchanged sides, but the game did not change. In the third quarter, Foxes increased the score difference up to 36 points. In the last period, UMMC coach team decided to engage all junior players and it did not hinder the Foxes from scoring the eighth hundred in the season – 102:68.
Five UMMC players ended the competition with double digits. Emma Meesseman scored 21 points and 8 rebounds, Alba Torrens added 18 points, 7 rebounds and 7 assists, while Evgeniia Beliakova contributed 15 points, followed by Courtney Vandesloot – 10 points, 7 assists, and 5 rebounds. Britthey Griner harvested double-double of 15 points and 12 rebounds.
Enisey players tried hard with Danielle MacCray scoring 13 points and Daria Kolosovskaia gathering 10 points.
UMMC Captain Evgeniia Beliakova:
- We went through three rounds of the regular championship. So far, we are happy with our results, we are satisfied with the way we play and feel great chemistry in the team. It is a big pleasure to play in this club and have an opportunity to play with the girls and work with the coaches. I wish us to continue in the same way and hope that this great spirit will never end.
UMMC Head Coach Miguel Mendez:
- We are happy with how our competition is going on. We have 20 wins and 0 losses. I think that we made a very good job in this season. We played our basketball with all our players, shared the minutes and we are very happy to win this stage of the season. We are ready for everything now. We are in a good shape and ready for everything.
UMMC finished the regular championship with hundred percent results and won all 20 games of the tournament.
In the Championship of Russian Quarter-Final play off best-of-three games series the reigning Champion will face Spartak from Noginsk. All matches of the series will be played at DIVS arena: game 1 on March 22, game 2 on March 29. In case if it is needed game 3 will; take place on March 30.
We remind that on Friday FIBA announced the decision to postpone all competitions of the European season. In addition, since today Russian Basketball Federation (RFB) also decided to postpone domestic junior basketball competitions. On the other hand, all other RFB competitions are to be played on regular basis according to the norms and regulations issued by local authorities and Russian Federation government bodies.