02/28/2020
UMMC is facing BLMA Montpellier in the EuroLeague Women Quarter-Finals
EuroLeague Women regular season is over. Following the conclusion of the Regular Season, the EuroLeague Women Quarter-Final four pairings are confirmed. Top 8 teams will continue the competition for the place in the Final Four.
Top 4 clubs from EuroLeague Regular Season Group A and Group B qualified for the Quarter-Finals. Four teams from the EuroLeague, who finished fifth and sixth in their respective Regular Season groups will continue their European campaigns in EuroCup Women.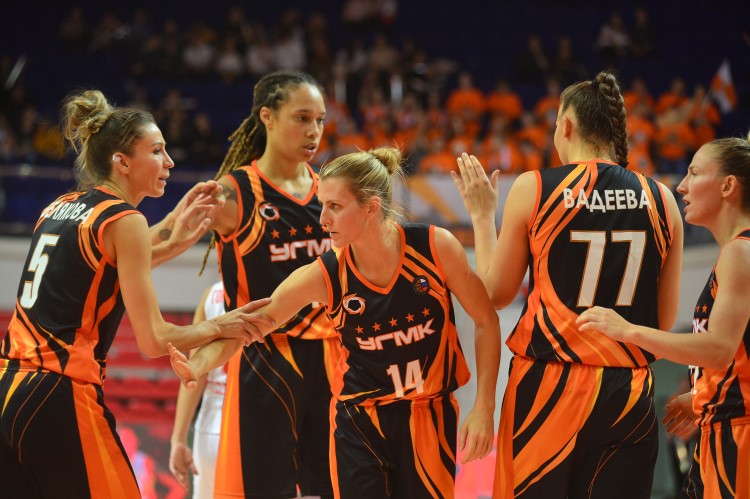 UMMC finished the EuroLeague group round on top position in Group A and going to face French BLMA Montpellier ranking fourth in Group B in a best-of-three series.
Game 1 will be played on March 11 at UMMC arena (Verkhnyaya Pyshma). Game 2 will take place in France on March 18. In case if it is needed, the final Game 3 will be played on March 25 in Ekaterinburg.
The EuroLeague Women Quarter-Final matchups are as follows:
I UMMC Ekaterinburg (Russia) v BLMA Montpellier (France)
II ZVVZ USK Praha (Czech) v Famila Schio (Italy)
III Fenerbahce Oznur Kablo (Turkey) v Bourges Basket (France)
IV LDLC ASVEL Feminin (France) v Nadezhda (Russia)
The winners of the Quarter-Finals will meet in the Final Four series that will take place on April 17 and April 19.
Winner 1 and Winner 4 as well as Winner 2 and Winner 3 will meet in the Semi-Finals on April 17, the Winners of the Semi-Final round will compete in the Final on April 19.
UMMC having the next domestic regular championship game on March 1 on the road competing against Sparta&K Vidnoje.