News
03/01/2020
UMMC took down Sparta&K in the regular season second round
In game one of the domestic championship second round an acting Russian Champion UMMC on the road swept aside local Sparta&K Moscow region.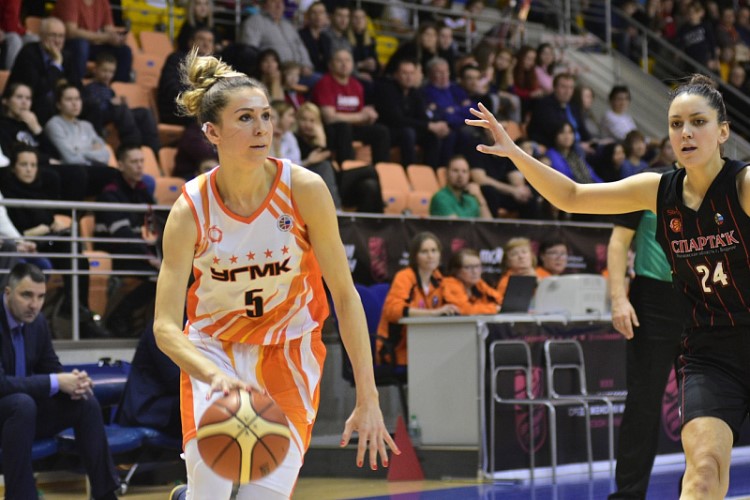 Sparta&K (Vidnoje) – UMMC Ekaterinburg 54:118
Quarters' results: 9-35, 9-33, 18-29, 18-21
Foxes made a general statement in the beginning of the meeting after outscored the opponent by 50 points – 68:18. In the end of the last quarter, UMMC made the figures on the scoreboard to pass the hundred-point mark. Eventually Miguel Mendez's team celebrated another win with 3-digit figures on the stats – 118:54.
Seven UMMC players scored double figures. Breanna Stewart harvested double-double of 20 points and 12 rebounds. Raisa Musina stopped within one-step from her double-double – 23 points and 8 rebounds. Evgeniia Beliakova was flawless with 4 of 4 from downtown – 19 points. Emma Meesseman harvested 15 points, while Allie Quigley added 13 more points. Elena Beglova and Courtney Vandersloot each contribute 10 points.
Ksenia Levchenko showed the best result for the home side – 12 points.
We remind that in the second round the teams are going to continue the competition taking into account round one results. First top teams will play one round of two games at home and two games away. Top five teams will take the corresponding positions in the Quarter-Final play-offs. The remaining four teams will have two legs set in home -and-away format. Best three games will earn a spot in the Quarter-Finals.
UMMC is having the next domestic regular tournament game on March 4 in Ekaterinburg against Dynamo Kursk. The game starts at 19:00.