News
02/20/2020
UMMC on the road took down Bourges Basket
In game thirteen of the EuroLeague group round UMMC on the road overpowered French Bourges Basket.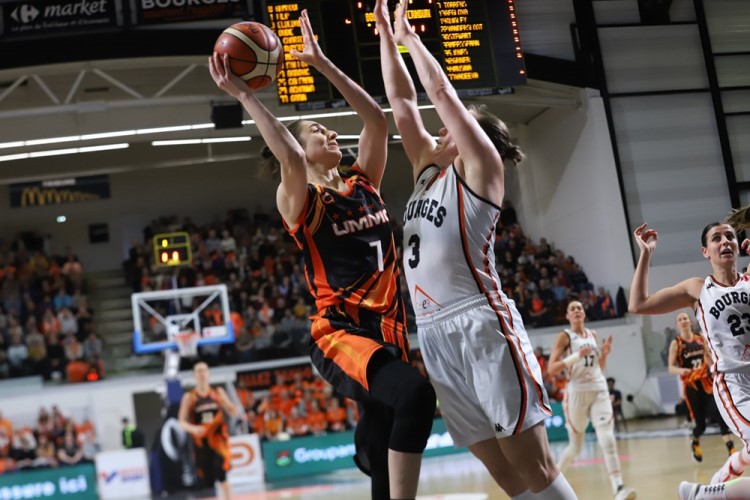 Bourges Basket (France) – UMMC Ekaterinburg (Russia)
51:87
Q
uarters' results: 6-29, 18-21, 17-24, 10-13
The hosts eliminated any questions about the possible game outcome in the first quarter when an acting champion UMMC outscored the opponent with 5-time advantage – 29:6. While the game continued, the only thing Miguel Mendez's team had to do was to keep the opponent at bay and the visiting side did it fine by prevailing in the other 3 quarters.
UMMC was too hot to handle as they powered their way to an 87:51 triumph.
Four UMMC players came up with double-digit scoring: Jonquel Jones – 14 points and 7 rebounds, Courtney Vandersloot – 12 points, 6 assists and 4 rebounds, Alba Torrens – 12 points and 3 assists and Emma Meesseman – 11 points, 6 assists and 4 rebounds. Maria Vadeeva finished one-step away from double-double – 9 points, 10 rebounds while Brittney Griner added 8 points and 9 rebounds.
The hone side replied with 15 points from Alexia Chartereau and Ana Dabovic.
UMMC Head Coach Miguel Mendez:
- Overall it was a good game. For 40 minutes, we acted solid and safe in defense. It was the key for our win tonight. Maybe we have one of the strongest rosters in this tournament. However, having a strong roster and being the best team is not always the same thing. So, we still have time to become the best strongest team, to be the best team we can.
UMMC is having the final game of the EuroLeague group round on February 26 in Ekaterinburg when Foxes will face the guests from Turkey Cukurova. The game starts at 19.00.