News
02/13/2020
UMMC defeated Nadezhda six times in the season
Playing in Orenburg the reigning Champion UMMC outplayed local Nadezhda in the domestic Premier-league match.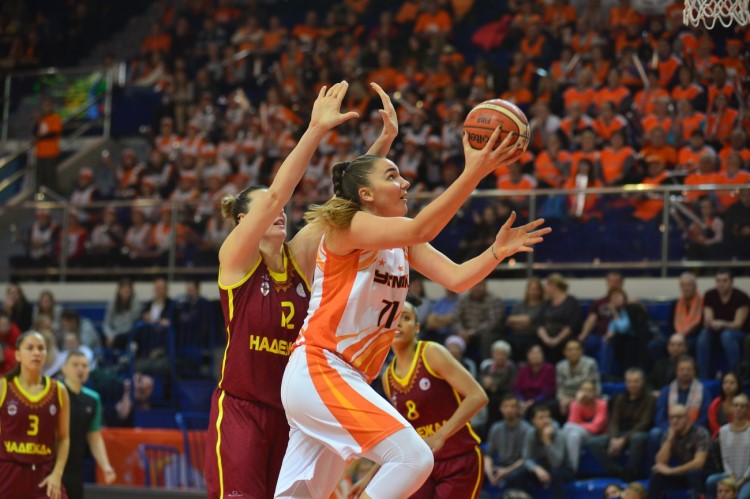 Nadezhda Orenburg region – UMMC Ekaterinburg

42:85
Quarters' results: 6-23, 12-13, 13-29, 11-20
The game tonight was the sixth meeting of the clubs since the beginning of the basketball season. Three previous matches of the SuperCup Women, EuroLeague Women and Russian Premier-league took place in Ekaterinburg. Two more Russian Cup and Euroleague Women games were played in Orenburg. Every time Ekaterinburg was stronger and ended up the games celebrating confident wins.
This time competing in Orenburg on the opponent's home court it was the reigning Russian and EuroLeague Champion UMMC who was running the show. Foxes prevailed in every quarter and were especially on fire in the first and third ten-minutes depriving the hosts of any chance for success. The final score difference was devastating for Orenburg with UMMC twice outscoring the opponents - 85:42.
That night Jonquel Jones starred for UMMC and ended up with double-double of 19 points and 10 rebounds. Few players scored double-figures. Allie Quigley gathered 17 points, Emma Meesseman ended up with 14 points, while Maria Vadeeva was one-step away from double-double – 11 points and 9 rebounds.
The home side forward Victoria Medvedeva gathered 8 points and 4 rebounds.
After 15 rounds, UMMC is the only one who confidently tops the Russian Premier-league standings.
UMMC is having the next match on February 16 in Ekaterinburg. In DIVS arena, Foxes are going to meet Dynamo Kursk in the final game of the Russian domestic championship first round. The game starts at 17:00.