02/16/2020
UMMC ended up the domestic Regular championship first round on top position
In the last game of the domestic regular championship first round an acting Champion UMMC competing at DIVS arena defeated Dynamo Kursk and ended up the first round of the tournament with perfect results – 16 wins in 16 games.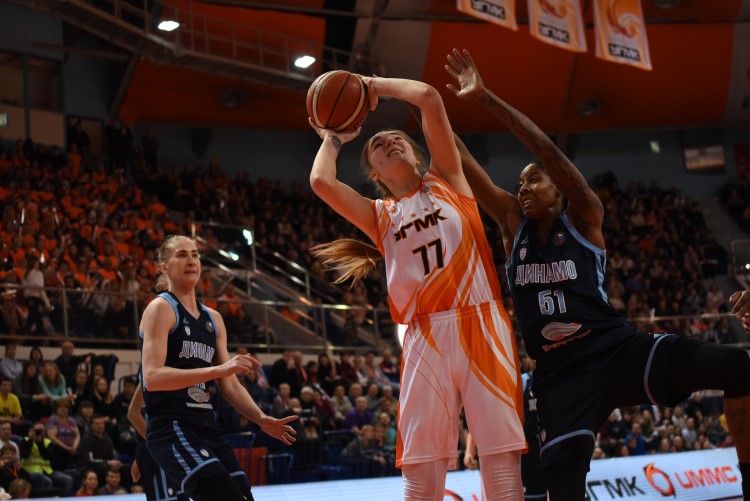 UMMC Ekaterinburg – Dynamo Kursk 85:76
Quarters' results: 27-18, 23-19, 21-22, 14-17
Six UMMC players scored double figures. Moreover, 3 players made it double-doubles: Courtney Vandersloot – 14 points and 10 assists, Alba Torrens – 12 points, 10 rebounds and 5 assists, Jonquel Jones – 10 points and 10 assists. Maria Vadeeva ended up one-step away from her double-double – 18 points and 8 rebounds. Brittney Griner harvested 16 points and 6 rebounds, followed by Evgeniia Beliakova – 11 points, 4 rebounds and 4 steals.
The opponents stood firm and fought back. In the end, DeWanna Bonner gathered 14 points, Tatiana Vidmer – 13 points, while Angel McCoughtry chipped in with 12 points.
UMMC Head Coach Miguel Mendez:
- We are happy to win the game that is my first idea, because our first goal is always to win the game. We could close the game before the last minute, but at some point, we lost the control of the game for few minutes in the third quarter and in the fourth quarter. In general, I am happy, because we have 6 players with double figures and it is very important for us to play our basketball. Now we are thinking about the next game.
UMMC finished the first round of the regular domestic Premier-league championship with one hundred percent result and from the top position qualified for the next second round.
In the second round of the Regular Championship, top 5 teams will play one-round series taking into account the results of all first-round games. The teams ranking from 6 to 9 positions will play a two-round series taking into account the results of all first-round games. The second-round series of games will be played since the beginning of March.
UMMC is having the next games competing in the Euroleague group round series: on February 19 Foxes are having on the road match visiting Bourges Basket. Later on February 26 in Ekaterinburg UMMC is hosting the game against Turkish Cukurova.