02/01/2020
Convincing win by UMMC and 32 points by Jonquel Jones
Tonight at DIVS arena the reigning Champion UMMC outplayed MBA Moscow in the Russian Premier-league group round match.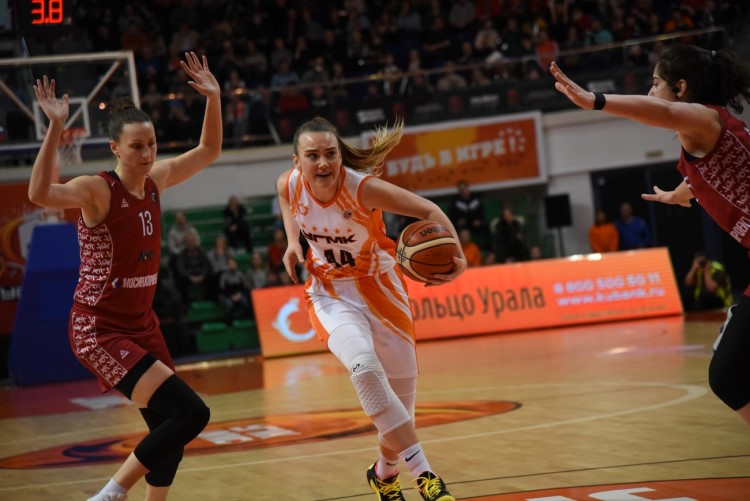 UMMC Ekaterinburg – MBA Moscow 84:55
Quarters' results: 24-9, 21-16, 17-17, 22-13
In the ongoing Premier-league season UMMC as a rule gave all games a hot start making everything clear since the beginning by depriving the opponents of any hope for the positive outcome. This time was not an exception and the hosts opened the game sprinting forward – 11:0 and as a result left the court for the first break with 15-point advantage.
The next two periods turned into high-competitive struggle. Nevertheless, by the time of the last short break UMMC prevailed by 25 points, however by the end of the period the guests were strong enough to cut a few points – 62:42.
The final quarter went on a high speed and like in the very start the hosts were dominating on court and eventually ended up celebrating the fourteenth win in a row in the first round of the regular domestic championship – 84:55.
UMMC center Jonquel Jones showed fantastic efficiency and ended up with double-double of 32 points and 11 rebounds. UMMC center Maria Vadeeva also collected double-double of 10 points and 10 rebounds. Few players gathered double figures: Courtney Vandersloot harvested 11 points, 5 assists and 5 rebounds, followed by Evgeniia Beliakova woth 10 points and 6 assists.
Elizaveta Komarova top scored for the visiting side. Former Fox contributed 16 points, 3 assists and 3 rebounds.
After 14 games of the domestic regular championship, reigning Champion UMMC showed perfect result and confidently tops the Russian Premier-league standings.
Club calendar takes a one week pause in order to give a way to the Olympic games preliminary games. UMMC is having the next match on February 13. Foxes will move to Orenburg in order to face Nadezhda in the Russian Premier-league match. Later on February 16 in Ekaterinburg UMMC will finalize the first round of the domestic regular tournament series competing at home against Dynamo Kursk.