01/28/2020
UMMC took down Riga with 20-point difference
In game twelve of the EuroLeague group round an acting Champion competing at home at DIVS arena claimed a confident win against TTT Riga from Latvia.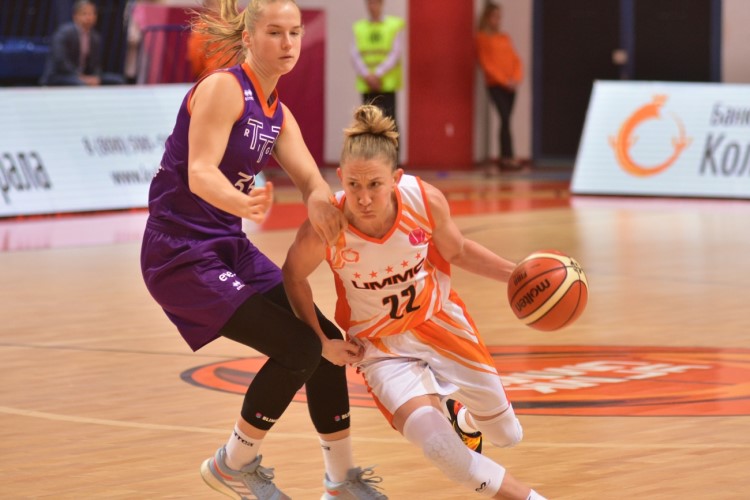 «UMMC Ekaterinburg» (Russia) – «TTT Riga» (Latvia) 87:67
Quarters' results: 23-13, 17-20, 26-14, 21-20
The teams kicked-off without exchanging recon shots. The guests focused on the long range shooting. Few good downtown shots enabled the guests from Latvia at some point to take the leading position, but not for long. The hosts on the other hand worked hard in the paint collecting points under the hoop. UMMC center players showed good efficiency and by the end of the first quarter, UMMC gathered a number of points. Foxes also activated their shooting skills by making few successful triples and by the end of the first period gathered a 10-point advantage – 23:13. Riga was not going to give up and in the second quarter was able to resist the award-winning opponent and cut few points.
After shifting sides, UMMC put the game under its total control. In the third quarter the possible intrigue about the match outcome vanished – 66:47 (26-14). In the last quarter, the «orange» team increased its leadership to 25 points – 81:56. Eventually UMMC celebrated the 11th EuroLeague victory – 87:67 and feels very comfortable on top of Group A standings.
Brittney Griner showed another great action and ended up with a double-double of 19 points and 10 rebounds in addition to 3 block-shots. Courtney Vandersloot was close to one more double-double with 13 points and 7 assists. Few players scored double-figures: Allie Quigley got 13 points, 3 rebounds, 2 assists, Maria Vadeeva added 10 points, 5 rebounds, 3 assists and 2 steals.
TTT Riga replied with 15 points from Binta Drammeh and 14 points from Megan Huff.
UMMC Head Coach Miguel Mendez:
- It was a hard game for us. We played with an extra motivation. They played with same motivation also. They played especially intense against us, specially aggressive. They were fighting as a team and we had to play our best basketball to win. We ended up with 30 assists, some players with double figures, so we are happy to play our basketball.
We have to play 2 more games, especially one, very difficult in Bourges in France. Last season we won on the last minute. We have to prepare for this game. Now we also have to play against MBA and then we will have a one week break. I only hope that all out players will be healthy, because now we approached the most important part of the season, March and April are extremely important time.
UMMC is having the next match on February 1 in Ekaterinburg. Playing at DIVS arena Foxes are about to face MBA Moscow in the next match of the domestic Russian Premier-league group round stage.