01/25/2020
Another win by UMMC and great slam-dunk from Griner
Tonight at UMMC arena in Verkhnyaya Pyshma Foxes competing in the Russian Premier-league match took down the guests from Moscow region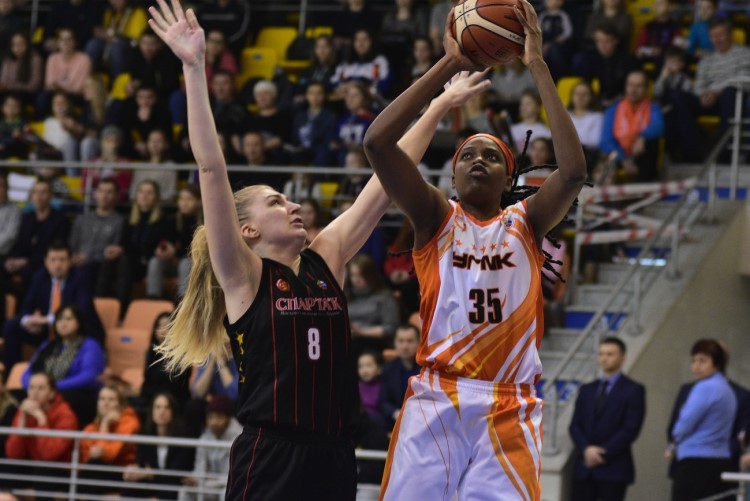 UMMC Ekaterinburg – «Sparta&K» (Vidnoje) 97:46
Quarters' results: 28-3, 24-8, 31-22, 14-11
An acting Champion kicked off the action rolling forward in offense while in the same time demonstrating an astonishing team effort and nice game in defense. The hosts allowed the team from Moscow region to take only one single field goal of 17 attempts in the first quarter – 28:3! The second goal came from Sparta after 20 minutes – 32:6.UMMC center Brittney Griner stole the show when she came up with a magnificent slam-dunk after an assists from Alba Torrens. It became a true icing on the cake of the first half and the whole game.
The first half of the match showed that the opponents play in different leagues and in the second half Miguel Mendez's team loosen the grip and slowed the pace allowing the guests to make few good shots. It did not made any difference for the obvious game outcome. In the last period, the score difference reached 55 points. In the end, UMMC without any doubt won the game within 3 points from another hundred of points – 97:46.
UMMC center Jonquel Jones top scored with double double of 28 points and 12 rebounds. Few players scored double-figures: Evgeniia Beliakova scored 19 points, Maria Vadeeva added 16 points, Brittney Griner contributed 13 points.
Daria Kurilchuk ended up with 12 points for the visiting side.
UMMC Head Coach Miguel Mendez:
-It was not easy for us to play after the game we had against USK Praha. That game was one of our best and most complicated matches in the season. Tonight we came out on court with an absolutely different focus. Nevertheless, in the first half, we achieved our goals and in the second part of the game, we kept on moving on and kept the game pace. In the end, I am glad the way we played and enjoyed the game that our players showed tonight. Now we will get ready for the next match that will be played on Tuesday.
UMMC is having the nearest EuroLeague group round match on January 28 against the club from Latvia TTT Riga. Meanwhile Foxes are having the next Premier-league game on February 1 at DIVS arena against MBA Moscow.