01/19/2020
UMMC ripped Enisey in Ekaterinburg
Russian and EuroLeague Champion UMMC in the domestic regular tournament match in Ekaterinburg defeated Enisey from Krasnoyarsk krai at DIVS arena.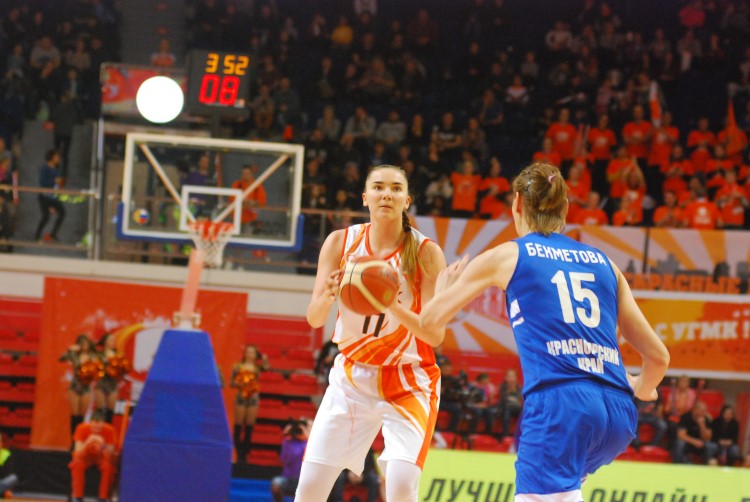 UMMC Ekaterinburg – Enisey Krasnoyarsk krai 97:45
Quarters' results: 24-8, 23-16, 22-12, 28-9
The game in Ekaterinburg was the second meeting of the competitors in the ongoing season. Game one took place last year in October in Krasnoyarsk. That time an acting Champion celebrated a confident win – 85:64 (17-21, 12-30, 18-20, 17-14). Tonight competing at home DIVS arena UMMC improved its result after outplayed the visitors with double-figured advantage.
Since the very beginning, UMMC made a clear statement by winning the starting period with 16-point difference – 24:8.In the second quarter Enisey showed its teeth and temper. For a short period, the guests added pressure and were able to catch up with the leader, however by the time of the interval break Foxes pressed down the accelerator and left the floor for the 15-minute pause with double-figured advantage – 47:24.
After shifting sides, the hosts kept of driving forward while fueling the team effort in defense and offense with confidence and high ambitions. In the end, the final buzzer went on freezing devastating figures on the scoreboard – 97:45. UMMC center Vadeeva and Jones duo collected as many points as opponent's team combined. No wonder Maria Vadeeva top scored with 26 points and 8 rebounds, followed by a double-double from Jonquel Jones with 18 points and 14 rebounds. Emma Meesseman came up with 14 points and 5 rebounds.
The opponent answered with 11 points from Aleksandra Shtanko and 11 points from Danielle McCray.
UMMC Head Coach Miguel Mendez:
- We were concentrated and demonstrated good team effort almost during the whole game, except few minutes in the second quarter. Nevertheless, I am happy with the game and the way we played. Now we can totally focus on our preparation for the EuroLeague match against USK Praha.
After 12 rounds of the regular domestic championship UMMC have won 12 of 12 games and tops the Russian Premier-league standings.
UMMC is having the next match on January 22 in Ekaterinburg. Competing in the next round of the EuroLeague group stage Foxes will face USL Praha at DIVS arena. The match starts at 19:00.