01/11/2020
UMMC on the road swept aside Dynamo Novosibirsk
An acting EuroLeague titleholder UMMC competing on the road eased their way past Dynamo Novosibirsk.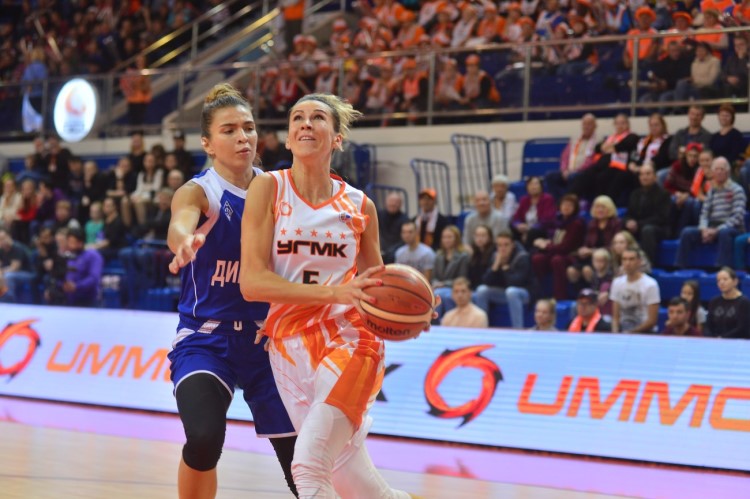 Dynamo Novosibirsk region – UMMC Ekaterinburg 62:99
Quarters' results: 20-27, 15-30, 15-20, 12-22
Miguel Mendez's team was running the show during the entire game and prevailed in every quarter, depriving the hosts of any chance for a successful outcome.
In the first quarter, UMMC collected a comfortable advantage and during the second period eliminated any doubts about the possible game outcome. The guests left the court for the interval break with 22-point score advantage – 57:35.
The second half of the meeting was more competitive; however, the game flow did not change much. In the end UMMC was the one to celebrate the 11th win in the Russian Premier-league. So far, Foxes demonstrated one hundred percent efficiency of 11 wins after 11 games, collected 22 points and top the domestic tournament standings.
Five UMMC players harvested double figures: Jonquel Jones got 24 points and 6 rebounds, Brittney Griner collected 21 points and 6 rebounds, Elena Beglova added 15 points, Maria Vadeeva contributed 13 points 6 rebounds, while Emma Meesseman ended up with 13 points and 4 rebounds.
The opponents answered with 20 points by Jamie Scott.
UMMC is having the next EuroLeague Women group round game on January 15 in Ekaterinburg. Foxes are going to face the Italian Umana Reyer team from Venezia. The match will start at 19.00.