News
01/08/2020
UMMC upset Nadezhda for the fifth time in the season
An acting Champion UMMC competing in the next EuroLeague group round game breezed their way to a confident road success at local Nadezhda Orenburg.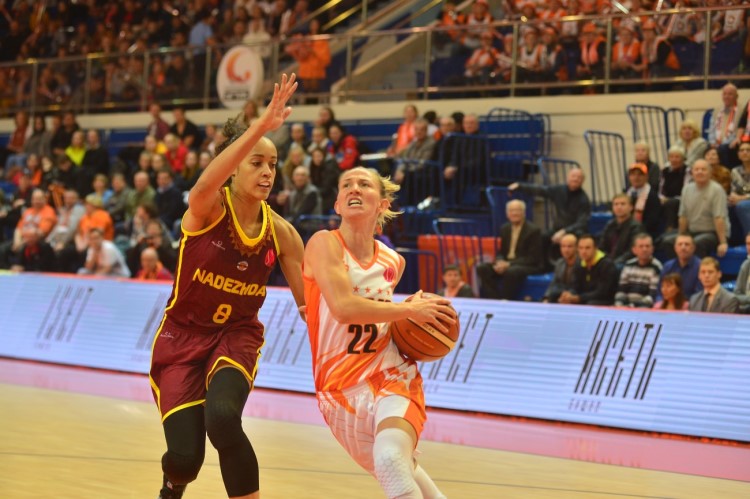 Nadezhda Orenburg – UMMC Ekaterinburg

50:71
Quarters' results: 6-15, 15-13, 21-28, 8-15
The match in Orenburg tonight was the fifth UMMC against Nadezhda game since the beginning of the basketball season. The previous matches of the SuperCup Women, EuroLeague group round series and Russian Premier-league took place in Ekaterinburg. One more Russian Cup game took place in Orenburg. The location changed but not the result and every time Foxes were the one who came up on top to celebrate confident wins.
This time UMMC once again had a hot start and won the first quarter with double-figure advantage. However, in the second period the guests faced a serious resistance and by the time of the interval break were forced to give up a couple of points to the home side.
The second game half was kicked-off with both sides riding up and down, moving back and forth. However, Miguel Mendez's team quickly gained the total control over the game back and outnumbered the opponent in all game components. Foxes were especially effective on the boards with 42 rebounds against 29! In the end the final buzzer went to state another comfortable victory by UMMC – 71:50.
UMMC center Brittney Griner was the top scorer for UMMC with 20 points and 5 rebounds. Courtney Vandersloot showed her skills with flawless shooting night and was close to another triple-double with 10 points, 8 rebounds, 7 assists and 3 steals. Allie Quigley scored 14 points, dished 7 assists, while Evgeniia Beliakova added 8 points and 5 assists, followed by Emma Meesseman with 7 points and 5 rebounds.
Yvonne Turner tried hard for Nadezhda and ended up with 16 points and 6 rebounds.
UMMC is having the next domestic Premier-league match on November 11 in Novosibirsk facing local Dynamo.