01/06/2020
UMMC prevailed against Spartak and collected another hundred in the season
In the first game after the New Year vacations, the reigning Champion UMMC competing in Ekaterinburg breezed past Spartak Moscow region to add another comfortable win to its tally and harvest one more hundred of points in the season.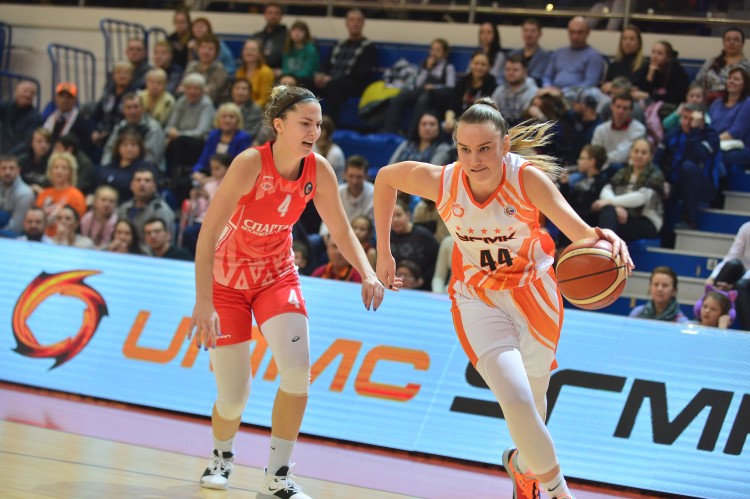 UMMC Ekaterinburg – Spartak Noginsk

105:55
Quarters' results: 31-6, 27-13, 21-12, 26-24
An acting Champion kicked off the first game in the new calendar year firing from all arms. UMMC made a powerful run and won the first period making a definite statement – 31:6. In addition, Spartak was experiencing hard time trying to find a breach in the home side defense. As a result, the guests were able to get the first points only in the middle of the first quarter after the time-out. On the other hand, Foxes felt just fine working in defense and collecting points along the game all the way to the end. UMMC powerful forwards felt comfortable in the opponents' paint and any doubts about the game outcome were successfully eliminated long before the interval break – 58:19.
The opponents shifted sides, but the game situation did not change. Miguel Mendez after the matched mentioned that his team lost concentration after the interval break; nevertheless, it could not change the game outcome. Well, frankly the hosts did not keep the fast pace all the way until the end, but it did not stop UMMC from harvesting another hundred of points in the ongoing season – 105:55.
It was a good team display, with Maria Vadeeva standing out as she scored double-double of 21 points and 10 rebounds. Raisa Musina followed the example and harvested her double-double of 13 points and 11 rebounds. Elena Beglova, Allie Quigley, Jonquel Jones and Brittney Griner each made a 13-point contribution.
Performing for the opponent Marina Krivolapova scored 12 points, while Raisa Andrianova added 11 more points.
UMMC Head Coach Miguel Mendez:
- It was our first game after the Christmas. I am very happy for the first half, we were very concentrated, played good defense and good offense. It is true that we lost concentration in the second half, it is not easy to play after winning the first part of the match with over 40 points difference.
We have important games in front of us, starting from the EuroLeague game in Orenburg. We need to recall our way, the way we play, and be ready for the next challenges. We are in the important part of the season. We need to be concentrated on what is about to happen in the nearest future.
UMMC is having the next match on January 8 in Orenburg. In the second group round EuroLeague game Foxes are about to face local Nadezhda.