12/14/2019
UMMC got the second hundred in the season
Tonight at DIVS arena, an acting Champion competing in the Russian Premier-league came on top against Dynamo Moscow and for the second time in the ongoing season harvested over hundred points in one match. Foxes scored the first hundred in the previous match. It was one of the EuroLeague Women group round games that took place in Turkey.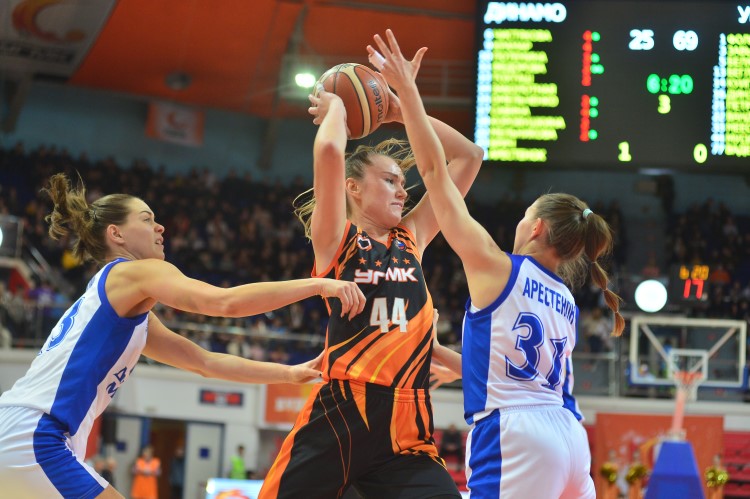 Dynamo Moscow – UMMC Ekaterinburg

54:118
Quarters' results: 14-30, 11-31, 8-27, 21-30
Facing the Premier-league underdog UMMC rapidly ran forward. Foxes built a brick wall of defense and used it to initiate different activities in offense. UMMC generated its advantage that kept on rolling forward like a growing snowball. By the time of the interval break in became evident that there were no chance for the «white-blues» to escape a total defeat that night - 61:25.
After the opponents changed sides Miguel Mendez's team in spite of a confident leadership kept the pace and in the third quarters allowed the guests to score only 8 points. By that time the teams were separated by a 55-point gap - 88:33
In the final time period the score difference between the competitors reached its maximum of 66 points. The final buzzer meant one more Premier-league win for UMMC - 118:54.
UMMC Head Coach Miguel Mendez:
- We had a good game tonight. We could stop the opponent in defense, however this time I really enjoyed to see the way we acted in offense. In the last game, we made 39 assists in attack. Tonight we had 37. I am glad about these figures. It means that we share the ball and demonstrate a really great team basketball.
Two UMMC forwards were able to collect double-doubles: Raisa Musina harvested a collection of 19 points and 12 rebounds, while Emma Meesseman contributed 18 points and 11 rebounds. UMMC center Maria Vadeeva stopped one-step away from her double-double and ended up with 14 points and 9 rebounds. Few players harvested double-digits. Elena Beglova dropped 18 points, Allie Quigley added 17 points, Evgeniia Beliakova scored 13 points, while Courtney Vandersloot dished 10 assists and got 8 points.
Competing for the opponents Svetlana Tohtach scored 10 points.
UMMC is having the next match on December 18 at DIVS arena. Foxes are about to continue the EuroLeague campaign and will face Belgian Castors Braine in the EuroLeague second group round. The game starts at 19.00.