News
12/11/2019
UMMC powered its way past Cukurova and collected the first hundred in the season
An acting Russian and EuroLeague titleholder UMMC finished the first round of the EuroLeague Women group stage by destroying the opponent in Turkey. In Mersin, Foxes took a double-digit win after taking down Gelecek Koleji Cukurova and collected the first hundred in the ongoing season.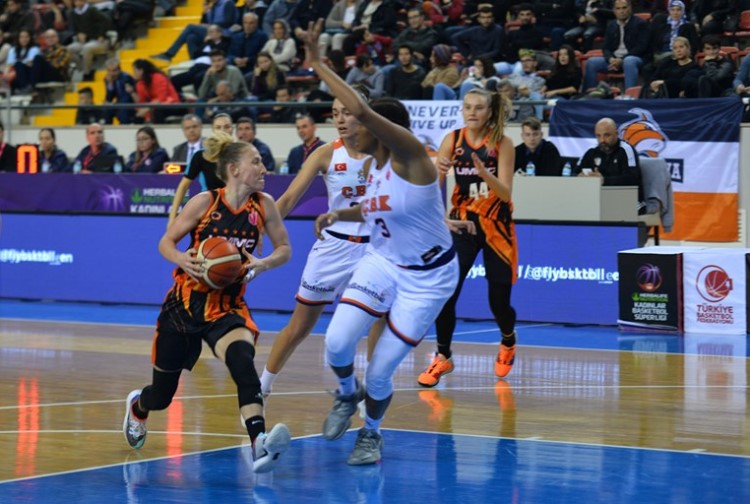 Gelecek Koleji Cukurova (Turkey) – UMMC Ekaterinburg

56:112
Quarters' results: 24-33, 10-28, 8-26, 14-25
Mersin saw true competitive battle only in the first five minutes of the match. In the next game period, Foxes increased pressure and took the game under total control. The Foxes prevailed on the boards, shared the ball well and demonstrated high team spirit. By the time of the interval break the guests took a double-digit score lead.
In spite of a great advantage after the interval break Miguel Mendez's team kept full concentration on court. In the following third and fourth quarters, the hosts were able to grab only 22 points, take 9 rebounds and dish 3 assists. While the quests added 51 points, 19 rebounds and 18 assists as a result won the match with double digit advantage and harvested the first hundred in the season - 112:56.
Emma Meesseman once again produced a great display and ended up with 28 points. Courtney Vandersloot excelled from the backcourt with a double-double of 15 points and 11 assists. Maria Vadeeva was also impressing and missed one-step to grab a double-double with 19 points and 9 boards. Jonquel Jones ended up with 10 points and 9 rebounds. Raisa Musina added 12 points and 6 rebounds, while Evgeniia Beliakova, Allie Quigley and Elena Beglova each contributed 8 points.
For the home side Morgan Tuck scored 14 points. Leonor Rodriguez and Alexandria Bentley each added 13 points.
Our team is having the next game on December 14 in Ekaterinburg. Competing at DIVS arena Foxes are about to face Dynamo Moscow in order to kick off the second group round of the Russian Premier-League regular championship. The game starts at 17:00.