12/04/2019
UMMC took the fifth EuroLeague win
The reigning Russian and EuroLeague titleholder UMMC took the fifth EuroLeague win after crashing at home the guests from French Bourges Basket.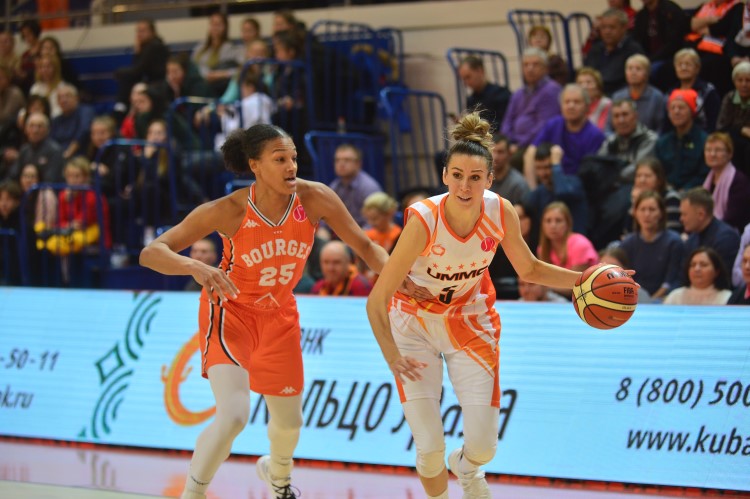 UMMC Ekaterinburg (Russia) – Bourges Basket (France) 86:47
Quarters' results: 29-17, 21-8, 13-14, 23-8
Since the very beginning of the game UMMC concentrated on defense, however also created many good opportunities in offense. In the first period, the hosts built up the 12-point advantage that kept on growing up and by the time of the interval break reached double-digit figures – 50:25.
After short rest in the middle break, Bourges came out on court to take another shot in activating a powerful resistance. It did not work well. The visiting side was able to cut the gap by a single point. The last quarter went on under total UMMC control and the score difference reached its maximum of 39 points along with the final buzzer – 86:47.
Emma Meesseman starred for UMMC with 16 points, 5 rebounds, 5 assists and 5 steals. Few players grabbed double digits. Allie Quigley scored 14 points while Brittney Griner added 12 points. Jonquel Jones was one point away from her double-double – 9 points and 12 rebounds.
Elin Eldebrink worked hard for Bourges and contributed 13 points.
UMMC Head Coach Miguel Mendez:
- We are happy. We controlled the game. They had only 6 experienced players and missed some of the most important players like Yacoubou or Dabovic. With our rotation, I think they had a lot of problems. The score tonight is not the real result. They are a very good team with good coach; I would say classic European team. We have to be ready to play in Bourges in the second round. It would be an absolutely different game.
UMMC is having the next EuroLeague group round match on December 11 in Turkey.