12/01/2019
UMMC swept past Dynamo in Kursk
Reigning Russia and EuroLeague Champions UMMC breezed its way to an on the road win against local Dynamo Kursk and after the first group round of the domestic regular championship tops the Russian Premier-league standings.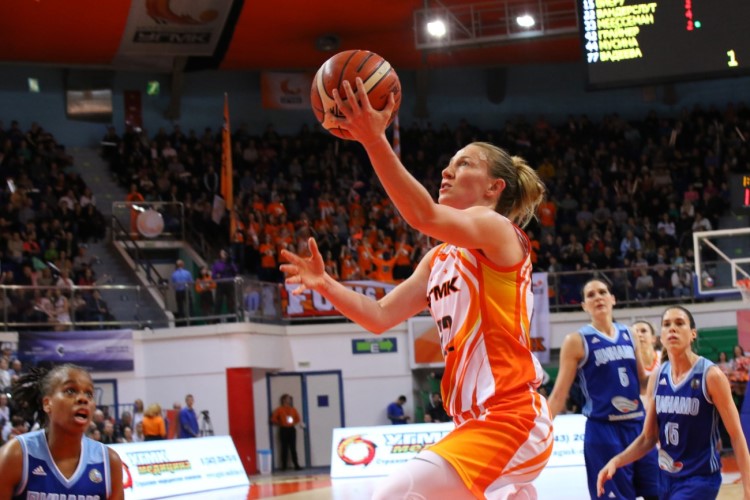 Dynamo Kursk – UMMC Ekaterinburg 72:93
Quarters' results: 19-28, 21-26, 21-24, 11-15
Two Russian Premier-league leaders met on the court to ride a roller-coaster. However, by the end of the starting period UMMC overpowered the opponent to put the game under control. Foxes left the playground for a break with 9-point advantage.
The game course did not suffer any changes in the second quarter. The Foxes felt comfortable in the paint, controlled the boards and were active moving and sharing the ball. Great teamwork allowed the guests to increase score advantage by 14 points by the time of the interval break.
Courtney Vandersloot was spectacular and ended up the match as a top-scorer with a double-double of 21 points and 11 assists.
The second game half in many ways repeated the first one. An acting champion was steadily rolling over the opponent. Dynamo did not give up and kept on fighting all the way to the game end. However, high combat spirit and desire to win were not enough to come on top and UMMC was the one celebrating another victory over the closest Premier-league opponent. For now, UMMC has number one rating and after the first group round of the domestic regular Championship confidently tops the standings of the tournament.
UMMC players scored double digits: Emma Meesseman took 19 points, Brittney Griner gather 14 points. Maria Vadeeva ended up one-step away from double-double with 10 points and 8 rebounds. UMMC Captain Evgeniia Beliakova contributed 9 points, 5 assists and 4 rebounds.
DeWanna Bonner stood out for the hosts as she posted 17 points, followed by 13 points from Natalia Zhedik.
UMMC is having the next game on December 4 in Ekaterinburg competing against French Bourges Basket in EuroLeague Women group round match. The game starts at 19:00.