11/07/2019
UMMC shows flawless result and tops EuroLeague Group A
Reigning Russian and EuroLeague Champion UMMC finished long on the road series after they beat ZVVZ USK Praha in the EuroLeague group round week four match.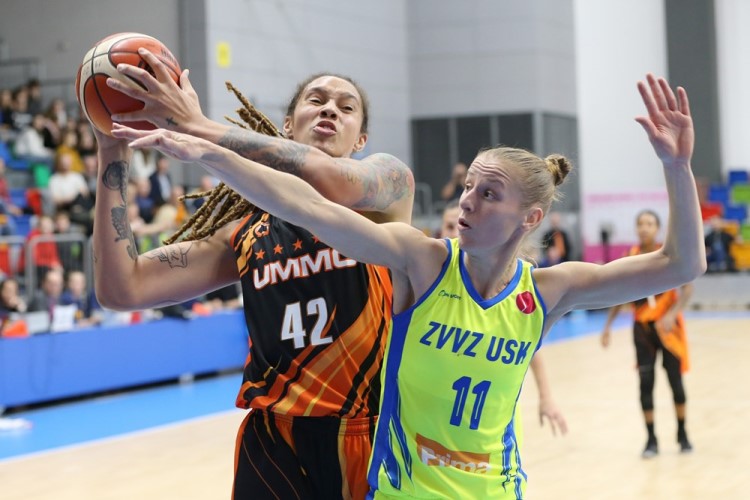 ZVVZ USK Praha (Czechia) – UMMC Ekaterinburg (Russia)

67:74
Quarters' results: 18-20, 17-19, 16-13, 16-22
Group A leaders kicked-off the meeting riding up and down on the rollercoaster, however UMMC front line was stronger under the boards and it allowed UMMC make the first step toward the leading position. After 15 minutes on court, Elena Beglova dropped a triple propelling UMMC forward by 6 points. After a series of successful free throws by Courtney Vandersloot Foxes increased to score gap by 8 points. The hosts answered with the downtown shot by Katerina Elhotova who underpinned the results of the first half.
An acting Champion started the third quarter with an intense run and outscored the opponent by 9 points – 46:37. However, within 2 minutes to play until the last break both teams once again restarted the game. Teja Oblak and Brionna Jones acting in tandem tore apart the visiting side advantage. Foxes fired back with 4 points, while Praha in the very end once again replied with a triple by Elhotova.
In the final quarter, it was UMMC who managed to put the game under control dictating its will. Miguel Mendez's team erupted in a 16:4 run. Jamierra Faulkner and Courtney Vandersloot provided few important triples, while Brittney Griner and Maria Vadeeva were leading the show in the paint. Natalia Hejkova tried hard to force her team back on track by taking two time-outs, but it did not help and that night UMMC was the one to collect another EuroLeague success – 74:67.
Brittney Griner top scored with 25 points and 9 rebounds. Emma Meesseman gathered double-double of 16 points and 10 rebounds, while Maria Vadeeva added 12 points and 8 rebounds.
For USK Praha Alyssa Thomas collected double-double of 15 points and 17 rebounds.
After four EuroLeague weeks UMMC demonstrates one hundred percent result and confidently tops Group A standings. So far, UMMC is the only team among the participants of the tournament that faced no defeats since the beginning of the competition.
Miguel Mendez's team is returning to Ekaterinburg to play on November 10 in DIVS Arena the Russian Cup Quarter-Final match against MBA Moscow. The game starts at 17:00.