News
10/27/2019
UMMC registered the fifth Premier-league win
On Saturday, the current Russian and EuroLeague titleholder went on a long journey. Foxes are about to have 4 away on the road games in 12 days. Moscow was the first stop on the trip list. Miguel Mendez's team came to Moscow in order to take down local MBA on their home arena.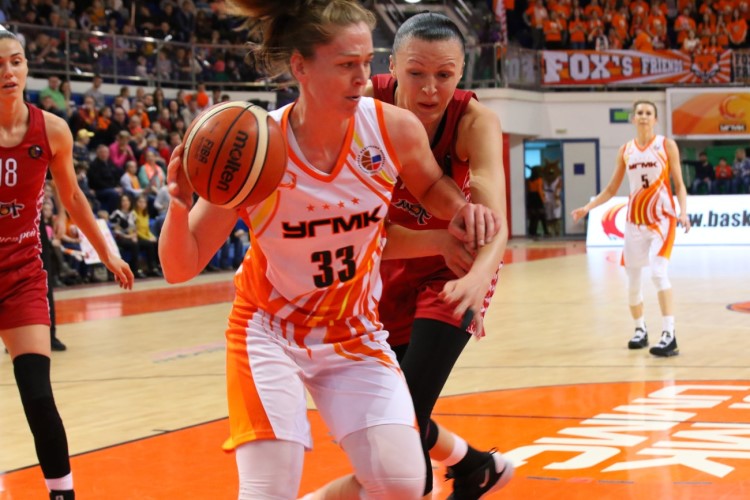 MBA Moscow – UMMC Ekaterinburg 66:91
Quarters' results: 18-27, 22-22,16-21,10-21
WNBA Finalist Jonquel Jones joined the UMMC in Ekaterinburg before the team left its hometown. The coaches welcomed the new player and put her on the game list to compete against MBA.
The integration of the new player into the UMMC tactical schemes and game plans went on fast and smooth. Jonquel not only fit in great, but also collected her first double-double of 11 points and 11 rebounds.
UMMC center Emmas Meesseman showed her class and top scored with 21 points. Maria Vadeeva stopped within one-step from double-double – 15 points and 19 rebounds. Evgeniia Beliakova scored double digits of 12 points, while Raisa Musina added 10 points and 7 rebounds. Courtney Vandersloot finished with 9 assists and 6 points, while Allie Quigley contributed 8 points, 7 assists and 6 rebounds.
Anastasia Logunova did the job for MBA with 18 points.
After five Premier-league rounds UMMC showed one hundred percent result and tops the standings.
An acting Champion is having the next match of the Premier-league regular championship on November 3 in Vidnoje against local Sparta&K. Meanwhile on October 30 the Foxes are going to have the third EuroLeague group round match in Venice against local Umana Reyer Venezia.