10/17/2019
UMMC kicked off the EuroLeague by recording the win in Belgium
UMMC started its crusade in the major European tournament by celebrating the first win in Belgium. In the first game of the group round an acting Champion UMMC competing on the road took down local Castors Braine.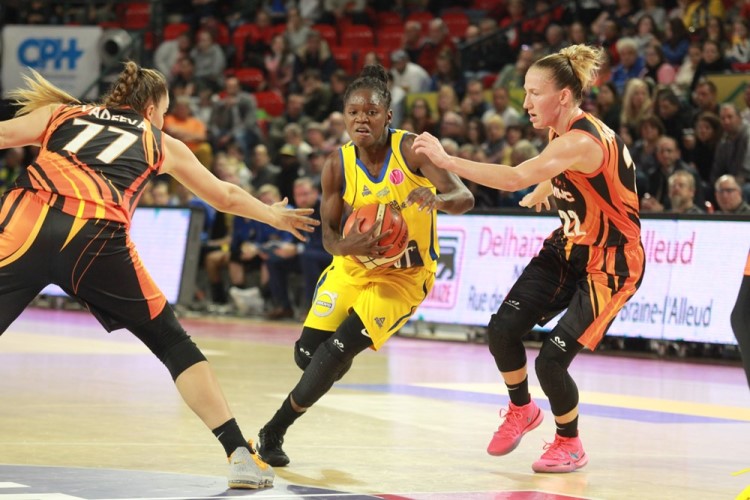 Castors Braine (Belgium) – UMMC Ekaterinburg

79:87
Quarters' results: 13-27, 15-24, 24-21, 27-15
Since the first minutes, an acting EuroLeague and Russian Champions paced the gamed forward and put the opponents' leaders under full control both in defense and in the contest for the rebounds. In offense, Foxes tried different configurations and showed high realization percentage. By the time of the break the guests were close to eliminate any doubts about the game possible outcome after the Foxes won the first half with double score advantage – 51:28.
However, after the break the Champion of Belgium showed resilience and tried hard to return on court. By the end of the third quarter UMMC was twice lead by as many as 24 points (66:42, 68:44), however under the tough pressure of the home side defense Foxes got down making mistakes and missing shots. The hosts on the opposite got on fire and fired back from the downtown forcing down Ekaterinburg hoop a series of triples. They were close to get up with the leader, however ran out of time and the acting Champion was the one celebrating the first EuroLeague success – 87:79.
UMMC center Maria Vadeeva top scored with a double-double of 22 points and 10 rebounds. Brittney Griner missed two rebounds to score another double-double with 20 points and 8 boards. Allie Quigley dropped 18 points.
Olesia Malashenko contributed 15 points to the home side. Celeste Trahan-Davis racked up double-double of 10 points and 11 rebounds.
UMMC center Maria Vadeeva:
- It's our first win in the Euroleague, a good start of the season. The Belgian team defended really well and it was a good fight. We made a lot of mistakes in the fourth quarter and it gave a hope to our opponent, but we got together and put our efforts to win.
UMMC Head Coach Miguel Mendez:
- We played a very good first half, we controlled very good the main players in defense, and in the offense we used all our players, shared the ball. The Belgian team played a very good second half, they put pressure on our players but we used our experience to control the game till the end. Congratulations for the second half. We wish you the best for the next euroleague game and see you in Ekaterinburg.
UMMC is having the next EuroLeague match on October 23 in Ekaterinburg against Nadezhda Orenburg. Meanwhile the next game will be played on October 20. Foxes are about to have the next match of the domestic championship on the road visiting Enisey in Krasnoyarsk.