10/13/2019
Prior to EuroLeague start UMMC outplayed Dynamo Novosibirsk
The reigning domestic and EuroLeague champions UMMC in the third round of the regular national championship competing at home rode past the guests from Novosibirsk.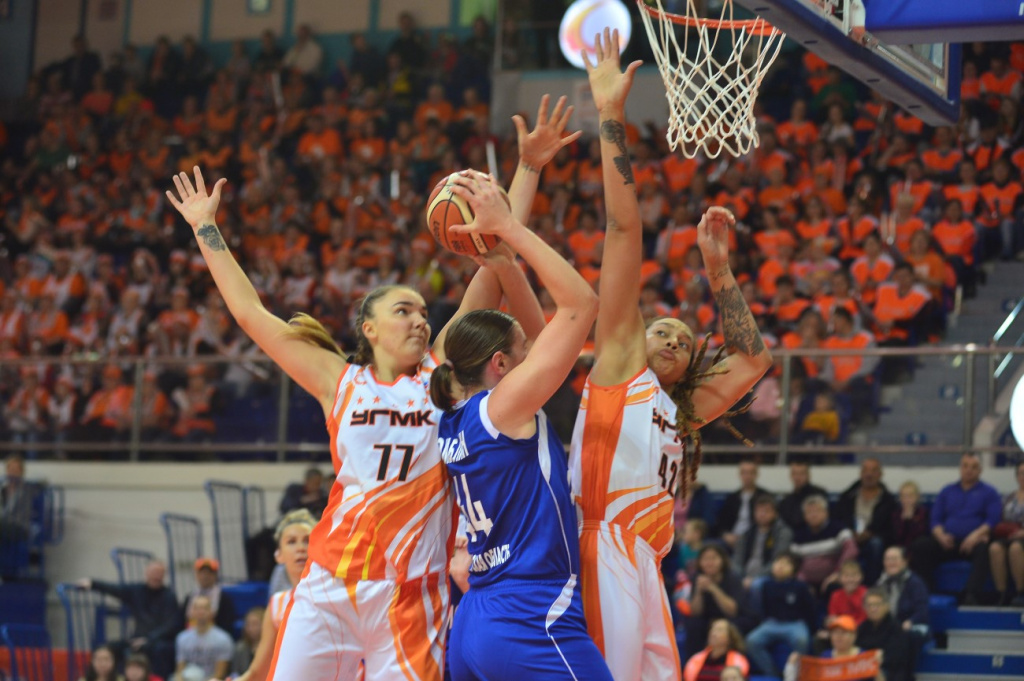 UMMC Еkаterinburg – Dynamo (Novosibirsk region) 89:63
Quarters' results: 28-17, 22-9, 21-16, 18-21
UMMC was considered as an absolute favorite of the home soil match and since the first seconds jumped out to prove the expectations. Foxes easily dealt with all the tricks of the visiting side forcing the ball into the front zone. Note by note Foxes delivered the ball into to the paint in order drop it down the opponents' basket again and again, while compete for the rebounds under the hoop. By the time of the interval break UMMC gathered more offensive assists rather than Dynamo got defensive rebounds 17 to 12. No wonder that the score difference grew extremely fast and by the time of the last period reached its maximum by 35 points.
Raisa Musina top-scored for UMMC with 21 points, 6 rebounds and 3 assists. Maria Vadeeva missed one assists to harvest double-double – 18 points and 9 rebounds, while Brittney Griner collected 16 points and 5 rebounds. Allie Quigley chipped in with 14 points and 5 rebounds.
Dynamo Novosibirsk was propelled forward by Jamie Scott who gathered 23 points. Miah-Marie Langlois ended one step away from double-double with 10 points and 8 assists.
UMMC center Maria Vadeeva:
- We become better with every next match. We finally feel the chemistry inside the team. Well, different mistakes and losses always happen during the game and we work hard to minimize their number.
UMMC Head Coach Miguel Mendez:
- Tonight it was one more game. I think we did a very good job during the first half. We understood the game well. We played a very good defense; we played like a team in the offense. We had more problems in the second half, especially in the last quarter, because we gave some opportunities to the young players. They helped us a lot in the pre-season training and during this last week. They are a part of our team and we gave them that opportunity to play in front of our fans.
UMMC is having the nest Premier-league match on October 20 in Krasnoyarsk against local Enisey. On Wednesday October 16 Foxes are about to have the first EuroLeague match competing on the road in Belgium against local Castors Braine.