10/07/2019
UMMC breezes its way against Spartak Noginsk
UMMC came out on top against the guests from Spartak Noginsk at DIVS Arena to celebrate the second Premier-league win.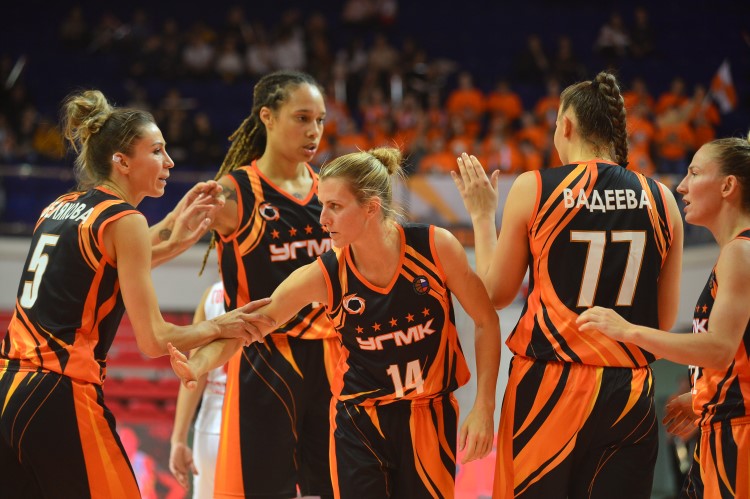 Spartak Noginsk – UMMC Ekaterinburg

61:99
Quarters' results: 21-23, 13-20, 13-34, 14-22
Since the very beginning and all the way until the end an acting domestic and EuroLeague Champion was the one leading the show on court. Foxes prevailed in every particular period, especially excelled in the third quarter, leaving the opponents not a single chance.
Two UMMC players collected double-doubles: Brittney Griner – 23 points and 12 rebounds and Raisa Masina – 18 points and 10 rebound. Two more players were one-step away from their double-doubles: Courtney Vandersloot – 14 points and 9 assists and Maria Vadeeva – 9 points and 9 assists.
Few more players scored double-digits: Evgeniia Beliakova grasped 13 points, while Allie Quigley chipped in with 10 points.
The opponent fired back with 19 points from Evgeniia Korotygina and 14 points from Veronika Martirosyan.
UMMC Head Coach Miguel Mendez:
-We had an important Premier-league match tonight. .I would like to congratulate the team from Noginsk on their excellent first half. They played great, with good temper in both offense and defense.
We are moving forward and keep on getting ready to take our first goal for the season. On Thursday, we are going to have the SuperCup Women match. It going to be a tough game. Nevertheless, I am sure that we are strong enough and walk the right way. However, the process of integrating new players into the team is still going on and it will take some time to end up successfully.
UMMC is having the next Premier-league match on October 13 in Ekaterinburg at DIVS Arena competing against Dynamo Novosibirsk.
This Thursday on October 10 Ekaterinburg is going to host the SuperCup Women game that will see an acting EuroLeague Champion UMMC clashing against the EuroCup winner Nadezhda Orenburg. The match starts at 19.00.